The Team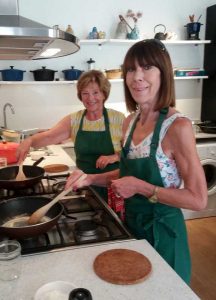 About
Le Pantry grew from different conversations about the lack of availability of freshly prepared ready meals which could be eaten immediately or frozen for future use.
The concept is quite simple – whether you're arriving on holiday and would like a meal delivered for when you arrive, you live here in the beautiful Languedoc and have friends and family staying for a holiday and you need a night or two without cooking, or you are simply too busy and need a few meals to put in your freezer, then Le Pantry can provide you with delicious meals ready for you to heat up and present to your guests/family.
Both Mairead and Jenny have several years experience in different areas of cooking and food preparation, we are fully registered and have current Hygiene Certification.
How we work
Here at Le Pantry our ethos is using fresh and seasonal ingredients.
The dishes prepared at Le Pantry are fresh so can be frozen by you, and can be scaled up for greater numbers when required.
Additionally, the flexibility of our menus means that it is very simple to MIX AND MATCH the different dishes. So, if you have a number of people to entertain, then a dish to be served for children can be mixed with a dish(s) perhaps a little more adventurous for adults.
As all of our dishes are freshly prepared then notice is required for orders of more than 12 people.
*ALL OUR FOOD IS NUT FREE BUT HAS BEEN PREPARED IN A KITCHEN THAT MAY HAVE TRACES OF NUTS.
PLEASE ASK FOR ALLERGEN INFORMATION RE: DAIRY, GLUTEN ETC.